Salut,
… Retour de la boîte à faire transpirer à la Scène Bastille !
Et cette fois-ci c'est une Djette Lilloise des labels Atomic Soda et Darek qui en sort...
« THE BOX 4 format XXL» invite DJ UNU
le Vendredi 18 Novembre dès 23 h.
Perfectionniste et toujours en rapport fusionnel avec son public, appréciée pour sa technique minutieuse et sa sélection mélodieuse hors du commun, elle nous régale de ses sets progressifs à chacun de ses passages.
Son premier EP «Dirty Music Machine», supporté par Abe Duque, FunkD'Void, Orlando Voorn, David Carretta ... sorti en 2011 sur Atomic Soda Records, division Chocoflash est une une véritable merveille.
Prochaine Release sur Qubiq Records ...
Un petit avant goût:
«Dirty Music Machine»: DJ UNU
http://www.youtube.com/watch?v=OStevgDEMhc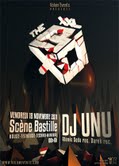 Les deux professeurs agrégés en science du groove electronique de Bug N Play ont répondu présent et fermement décidés à mettre à l'épreuve vos ptites jambes:
THE WIG ( Bug N Play )
Ancien bassiste de Jazz-funk et de Métal, le Dj parisien exprime son métissage culturel par une musique évoluant entre Deep-House jazzy, Minimal groovy et Techno-House.
Dj résident des célèbres "THINK MINIMAL" à l'OPA (Bastille), il partage la scène avec des artistes tels que Juan Atkins, Scan X, Electric Rescue, Lee Mortimer, Fukkk Offf, Lars Moston, Lunatic Asylum, Malente, Commuter, etc..
Objectif 2011, la production pour vous faire partager l'éclectisme de son univers musical.
CESKO ( MNLS rec / Bug N Play )
Dj et Producteur Parisien, CESKO cultive un style hybride mêlant Deep House, Minimal et Techno, aux influences Motown et Berlinoises.
Depuis 2009, il est dj résident à L'OPA Club (Paris) et membre co-fondateur de BUG AND PLAY.
Au fil des années, en France et en Europe, CESKO a joué sur scène aux côtés d'artistes comme Juan Atkins, The Hacker, The Dopplereffekt, T.Raumschmier...e, Scan X, Francesco Farfa, David Carretta, Electric Rescue, Fukkk off, Malente...
En 2011, il signe sur le label Français Minimalminuts Records, et compose une musique libertine fusionnant les sonorités analogiques et versatiles.
Les résidents «THE BOX» seront aussi de la party :
KIAB (Ornorm / Volum')
MOOSTIK (Volum')
Et aussi notre magicien du Vjing mister KHAQ du crew Ornorm. Tu l'as croisé sur la lune, tu l'as vu faire le guignol en parade … ce soir il revient décorer la ptite boîte de ses images...
les infos de l'association Ornorm sur:
sur le facebook: ORNORM SOUND SYSTEM
Participation à la fête de 10 euros
La scène Bastille:
2 Bis Rue Taillandiers
75011 Paris
/
Métro :
Ledru Rollin ligne 8
Bastille ligne 1 / 5 / 8
Parking :
Ledru Rollin
Saint Antoine
Garage Campus
Infos soirées et zik sur le facebook Volum' Events Paris
avec le soutient de technopol
http://www.technopol.net